Cooking Lessons: Keeping A Neat And Clean Kitchen

Save to notebook

Email article

Print article

More articles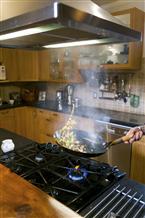 By Mia Bolaris-Forget
One of the first things most couples look forward to is romantic dinners at home. And, from the cookbooks and exotic pots and pans, maybe even some culinary classes, many brides begin to prepare for domestic dining well before the wedding.

The one thing however neither husband nor wife look forward to is the après meal clean up, and I'm not just talking about the dishes. But, if you haven't found out already, chances are you soon will, culinary experiences comes at the cost of multiple messes, including lots of spills. And, let's face it, once your delicious delicacy dries up, it's going to be anything but appetizing or appealing. And, having it fossilize on your stove won't be an incentive for you for head back to the stove any time soon.

And, as we all know, being that the way to a man's heart is through his stomach, and because YOU probably won't be able to live with the "unsightly" mess, it's best to clean it up before it solidifies.

Try wiping off the residue first. And, if you can't get it all off, experts suggest specialized stove cleaners as your next best bet. But, they suggest carefully reading the instructions and following them to a T.

It's also wise to note that some stubborn spills may require a second trial and/or application. Also you may need to give your cleaner a little assistance by using a straight-edged razor to remove the caked-on food. Professionals suggest holding the razor (or knife) at a 45-degree angle to prevent scratching the stove's surface, then, gently wiping away the remnants removed.

If possible try to avoid allowing spills to set. Remember, the sooner you tackle the mess, the faster and easier it will be for you. They also recommend sterilizing your stove and countertop with hot soapy water and a dishcloth or sponge, after every meal, and attacking the "problem" before it becomes one.



Long Island Home & Lifestyle Articles > Cooking Lessons: Keeping A Neat And Clean Kitchen