Girls Getting Physical Teaching Young GirlsKeeping Young Girls/Women Healthy By Teaching Them The Importance Of Rountine Physicals And Doctor Visits

Save to notebook

Email article

Print article

More articles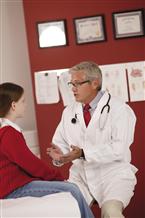 By Mia Bolaris-Forget
As our daughters mature they go through a variety of "growing pains". And, while they are "more" concerned" about taking care of themselves, they are also "less" concerned about health care. In fact, it has been proven that girls between the ages of 11 and 14 are reluctant to seek out the standard necessary health care for proper continued growth and development. In fact, recent studies shows that both girls and boys (in their teens) visit their physicians less frequently less frequently than any other age group.

Also according to statistics, this number increases as girls grow up. Girls between 15 and 21 make more doctor visits but primarily for pregnancy or birth control. Meanwhile, younger girls are missing out on an essential educational opportunity regarding maintaining their health as the make the transition into young adulthood, including detrimental behaviors frequently prevalent among teens.

Experts suggest keeping an open line of communication and encouraging your teen to establish a healthy relationship with his/her healthcare provider and to talk to her/his healthcare provider about the risky teen behaviors they may be "exposed" to, as well as how to avoid these perilous practices.

Long Island Family Life & Parenting Articles > Girls Getting Physical Teaching Young GirlsKeeping Young Girls/Women Healthy By Teaching Them The Importance Of Rountine Physicals And Doctor Visits