Glamour Days: An Education in Fashion For Going Back To School

Save to notebook

Email article

Print article

More articles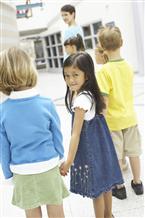 By mia bolaris-forget
The days are already getting shorter, a phenomenon I'm barely ready for…and, one of my girlfriends just recently informed me that she was already shopping in preparation for the upcoming school year….and that was about two or three weeks ago. Luckily for her, her kids are now attending a school that requires a uniform and hence one less thing for her to "worry" about.

But, not all kids get to have their educational ensemble picked out for them…which means its up to parents (and their little ones) to hit the malls and the stores in search of something stylish that's also study savvy and classroom appropriate.

Jeans and tees top the clothing charts when it comes to "must-have" trends for back-to-schoolers. And, for gals this spell skinny jeans otherwise known as straight, slims, cigarettes, or cigs…a fashion trend that started on the British runways. However, while chic on the right (slender) figure…think Audrey Hepburn, they are not suited for fuller-figured femmes. For these curvaceous young ladies think boho chic with boot cuts and flared styles that continue to be the alternative trend.

Take a close look at tees before taking them home. Whole character graphics and slogans are "in-style"; they may not be appropriate for school and a learning environment. Make sure the tees are age appropriate and non-offensive to others, especially classmates and peers.

Boys are all about comfort so relaxed jeans paired with an age-appropriate tee makes the grade this season. As the temps take a dip think pairing tees with a long-sleeve button-up shirt or flannel.

Also, some kids, depending on age, will insist on designer labels in an effort to "fit-in". While you "don't" want them to feel like "odd boy or girl" out, you may also not want to pay close to $100 for a hoodie or a pair of jeans. Instead consider shopping for such items online via some popular websites (like ebay) or looking into second-hand stores such as Plato's Closet that will make these designer duds "doable". Just make sure the clothes are in good condition and still "in-style" compared to what they are showing in the stores.

Other styles include a shift from Goth, tattered and torn, to a "preppier", cleaner look that includes lots of corduroy in pants, jackets and skirts.

Feminine glamour is also hot for little girls with animal prints for styles including coats, stockings and accessories. And, on their feet…pretty but preppy Mary Janes.

Boys, in addition to traditional jeans will be making a statement in camouflage from head to toe, including fancy footgear. And, they'll also be transitioning into the new school year with clothes that also make a transition. Zippers and Velcro allow long pants to be made into shorts and vice-versa.

Rain boots are fashionable accessories for little girls who want to make a fun fall fashion statement. And, on the top of the colour palette…orange seems to be topping the charts.

For moms and dads who want a more traditional uniform look, the private school solid or paid jumper paired with a comfy cardigan IS back. Funk it up by pairing it with a pair of converse or keds and give an old classic a marvelously modern twist.

For young men who want a sporty but conservative look, simply pair a "dress" shirt (with or without tie) with a pair of jeans or chords and a blazer and you've got contemporary classroom classic….especially when he's carrying a backpack that lights up for safety.

Blazers/Tailored jackets with tapered shirts in feminine florals are also back in a big way for tweens and teens that want to make a chic, but sophisticated statement.

Long Island Family Life & Parenting Articles > Glamour Days: An Education in Fashion For Going Back To School