Walking In A Winter Wardrobe Land: The Basics About Winter Basics
Save to notebook

Email article
Print article
More articles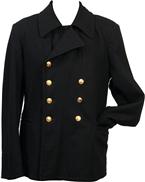 By Mia Bolaris-Forget
With the warmer climates (officially) behind us, many of us may not be as eager to bare our body and soles as we were a few months ago. Still, most of us define sultry sophistication with the ability to take a literal fashion and wardrobe plunge. But, for some, comfort and warmth are more important that scantily clad style. And, designers are finally catching on, that's the good news. The bad news (for some) is that they're offering heartwarming haut-couture fashions that have nothing to do with the warm and fuzzies you get from wearing fuzzy warm sweat pants.

1. High Society: From Higher necklines to longer skirts, the appeal of "ancient aristocracy" is gaining additional appeal. Fashion experts suggest pairing a fitted tweed jacket with a wide belt or sash and a frilly, lacey blouse with lots of ruffles, jeans and some sexy high heels (even kitten heels will work). Consider a classically chic cameo pin, and some pearls. And remember to break up the look with a variety of mix and match items.

2. Walking The Straight And Narrow: From deeply colored (navy or black) suit dresses perfect for peak hours and after hours affairs to pencil skirts (that fall just above or below the knee) and boost your booty, walking (in) a straight and fine line is the look of the season. Professionals point out investing in quality items that will stand the test of time and outlast the fads and trends. And, don't forget to pump up the volume with a pair of retro pumps.

3. Pleasant Peasantry: A spin-off of the ever-popular bohemian couture, this eastern-inspired looks combines feminine style with opulent fabrics for a sense of chic that's casually classy. Velvet and lambs wool fabrics in rich seasonal colors are featured in full skirts with over-sized sweater-jackets embellished with fancy frills and large lapels. And it looks especially elegant with the added touch of a suede boot. Remember however, to break up the look by wearing larger tops with a pair of jeans or peasant skirts with more form-fitting tops, keeping in mind that too much of a good thing may still be "too much".

4. Learn How To Effectively MANipulate Your Ensemble: Every man thinks his woman looks sexy in his shirt or some of his clothes, and now, while men are getting more and more in touch with their feminine side, women are tuning into their "masculine" side, sporting men's fashions with a feminine flair. Tweed, once again is the favored fabric, as are "slacks" detailed with a herringbone stitch. Keep in mind that you also have to work with your body type to make this look work. If you've got curves ahead, consider a mid-rise flare pant sans side pockets. More frail and petite femme fatales should opt for suits with a narrow leg that fall into a flare, and tall thin girls look best in straight slacks. And, don't forget to polish off the look with a warm and wooly coat. Long fitted coats are best for longer, lankier frames, while mid-length pea coats are more suited for shorter gals.



Long Island Health, Fitness & Beauty Articles > Walking In A Winter Wardrobe Land: The Basics About Winter Basics