Creme de la Creme The Importance Of Moisturizing
Save to notebook

Email article
Print article
More articles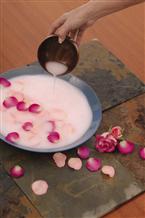 By Mia Bolaris-Forget
Want to show off your soft side naturally? Think about all the wonderful "moisturizing" agents in nature and the wonders they can work on your skin.

Natural body balms often feature rosemary, lavender, chamomile, ginger, citrus, and oatstraw, essences that hint at nature's bounty and not some chemical concoction

Organic lotions and potions purely soften the skin while oils such as coconut oil, almond oil, jojoba oil and shea butter replace moisture without an oily texture and moisturize without clogging pores.

Conventional body lotions may additionally contain ingredients such as isopropyl myristate, glyceryl state, ceteraryl alcohol, mineral oil, propylparabaen, propleneglycol, methylparoben, plysorbat-60 and other un-natural and perhaps objectionable chemicals.

Research suggests that many of these chemicals may in fact dry out the skin thus creating a vicious cycle, building a "dependence" on the product.

Natural lotions moisturize skin while also nourishing it with antioxidants, essential vitamins and minerals, and protecting it from the harmful effects of the elements like the wind and sun.

Long Island Health, Fitness & Beauty Articles > Creme de la Creme The Importance Of Moisturizing