Generation X-cellence: Achieving Timeless Elegance In Your Ensemble And Appearance
Save to notebook

Email article
Print article
More articles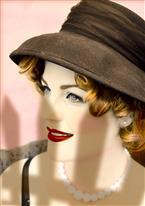 By Mia Bolaris-Forget
The generation (of designs) has left many wondering whatever happened to elegance and class. Well, according to aficionados in the fashion industry, it seems to have died with the passing of those who made "style" a stable. Among these Audrey Hepburn et al.

While much of today's generation would like to define style as loafers and leggings, femme fatales of the past achieved a look so timeless and memorable, that, if you look past the immediate trends, can see shadows of it still.

These Hollywood sirens (of yesteryear) achieved sensuality in a subtle yet sophisticated way, one that can be "easily" emulated by simply adding a few basic elements to our wardrobe and ensemble.

Haute Hats: Yes, it seems their making a comeback. While you may not be reading for heading out in public in a pillbox or broad brim chapeau, you can achieve quite the look by sporting the ever-popular baseball cap or beret.

Sexy Sashes: Scarves offer you a safe and elegant way to "tie one on". Consider casually wrapping one around your throat with a plunging neckline, wrapping one around your head, use one as bow around your ponytail (holder), or simply string one around your waist to in lieu of a traditional belt. Simply look for colorful, playful patters and choose one to compliment your ensemble and your mood.

Eye-Catching Eyes: Achieve that wide-eyed look with a careful application of eyeliner on your top lid, and lots of mascara, as well as by filling in your brows. Finish the look by keeping lips understated opting for neutral subtle shades instead of vibrant ones.

Shady Ideas: Sunglasses tend to be both mysterious and elegant. Without going overboard and looking like a bug you may want to consider some dark, "oversize" styles with a classic but contemporary flair.

Preppy Power: From capris bans and polo shirts along with comfortable loafers, the ladies of the Jackie O generation made casual classic. And, if you can pull off the look, don't forget about the sash around your waist.

The Little Black Dress: Probably well known to this day, because it works. So, if you really want to "work it" without being considered a "working girl", your may want to consider looking for a classic A-line with a classic cardigan and leave the plunging neckline at home. And if you want to show a little skin, experts suggest going backless.

Unforgettable Accessories: Jewelry can complete an ensemble, but even in this age of bling, you may want to consider that often times, less is more. Opt for studs or small hoops and pearls in place of diamonds. But, whatever you choose, the key is making sure your accessories don't overshadow you or your clothes.

Long Island Health, Fitness & Beauty Articles > Generation X-cellence: Achieving Timeless Elegance In Your Ensemble And Appearance