The Diva Dynamic: It's All About Attitude Adjustment
Save to notebook

Email article
Print article
More articles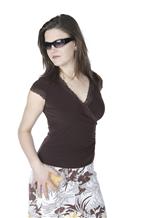 By Mia Bolaris-Forget
It never ceases to amaze me the women who are classified as "Divas". Surely many of these women have varying yet ideal figures and an "uncanny" sense of style, yet I've seem more than my share of fashion faux pas among this illustrious jet set.

Still, their image is rarely if ever shaken while the rest of us seem to clamor for attention, even when we've given looking our best that good ole college try. In fact, I recently attended a family function, and despite priding myself on my good taste and investing in some timeless yet trendy attire for the festivities, and spending at least an hour preparing myself for the party, I still somehow managed to look tired and "disheveled". And, the frizzy hair and dark circles plus poor lighting didn't help.

Yet, there are the select few (among my entourage) that no matter how harried and tired always come across in true diva style, pulled together and appropriately poised. Do they spend more time in front of the mirror than me? Get their hair and makeup done? Or do they simply have a better fashion sense.

According to the experts, it can be all or NONE of the above. In fact, they assert that what makes a diva, well, a DIVA, is her attitude. Despite her flaws or imperfections, and even the best of the glamour girls have them, is that she not only takes time for herself but also likes what she sees and feels good and confident about herself. And, that according to image experts is a good part of the "popularity" battle.

In fact, they assert living with a bit of "attitude" can help play a pivotal role in how you deal with life and its ups and downs.



Long Island Development Articles > The Diva Dynamic: It's All About Attitude Adjustment