Perfect Pantry: Having All The Right Ingredients On Hand
Save to notebook

Email article
Print article
More articles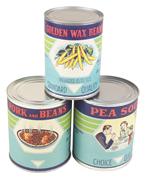 By Mia Bolaris-Forget

Perfect Pantry: Having All The Right Ingredients On Hand

Most women lament that they've "simply got nothing to wear". On the other hand, many couples or married Mademoiselles are often, even with a "fridge-full" of food, left with little or nothing appetizing. And, when it comes to sitting down to dinner with la famiglia, you can find yourself at a loss for ideas and ingredients.

So, before heading to the market, experts suggest including some of what they refer to as the standards of non-perishables essential for tossing together a timely and tasty treat for family and friends.

Almond Extract: Ideal for adding a little flavor and finesse to desserts, piecrusts, veggies and a sundry of other dishes.

All-Natural American Cheese: While experts suggest steering clear of processed brands, these succulent slices make for great additions to sandwiches, grilled cheese, a healthy snack, casseroles, pasta, mashed potatoes or for topping-off veggies.

Apples: These fantastic fruits not only help keep the doctor away, but last a (fairly) long time, are easy to eat, even on the run, and make for great snacks and desserts.

Applesauce: Perfect for adding as a healthy alternative to sugar-packed jams for PB & J. also great for snacking, cooking, and/or baking an easy dessert.

Balsamic Vinegar: A favorite for adding flavor to dishes and making salad dressings.

Baking Soda: This panty basic has a variety of uses including uses for baking and cleaning.

Baking powder: A staple for baking.

Barbecue Sauce: Ideal for enhancing the flavor of foods.

Basil: Add to soups, stews, pesto, and Italian recipes

Bay Leaves: A basic for seasoning soups, stocks, roasts, sauces and poaching liquids.

Broth:. Especially if you can't make your own…perfect for soups, seasoning, casseroles, and marinades. Opt for organic if possible.

Brown or Wild Rice: A great alternative to pasta and just as filling. Plus, it's healthier than white rice and is ideal for casseroles, soups, stuffings, and side dishes.

Brown Sugar: Better than white sugar and ideal for baking, cooking and seasoning
Butter: Better than margarine, though margarine IS on option. Used for cooking, sometimes sautéing, flavoring and greasing pans.

Cake Mix: For dessert in "a pinch"

Creamed Soup: While not very calorie-conscientious, good to have on hand for "quickie" dishes like casseroles or gravy.

Catsup: An easy way to accentuate sandwiches and other dishes.

Carrots: Make for great long-term storage, are great for snacking, especially with peanut butter, plus, they are a stable for soups, salads, side dishes, roasting meats, casseroles, stews and much, much, more.

Cayenne Peeper and/or Crushed Red Pepper: Perfect for "exotic" dishes and for subtly spicing things up.

Celery: Again perfect for snacking either with peanut butter or dip. An excellent addition to salads, and a staple for soups, roasting meats, casseroles and stews.

Cheddar Cheese: A more pungent option to American and great for sandwiches, snacks, casseroles, pasta, mashed potatoes and veggies.

Chervil: You can use marjoram as a substitute. This herb is typical in soups and sauces offering a delicate flavor.

Chives: Fresh chives are healthy accoutrements for mashed potatoes and sauces.

Cinnamon: Ideal for adding to cereals and yogurt (it actually enhances circulation) and makes a nice addition to breads, pancakes, fresh toast, fresh-fruit and desserts.

Cocoa Powder: Naturally delicious…used for baking and hot cocoa

Cold Cereal (or all-natural granola): Not just for breakfast any more. Use for baking, adding to pancakes, topping casseroles, and for snacking. Also a great addition to breakfast sandwiches (peanut butter and jelly) and cakes.

Cornmeal: An excellent alternative to white bread. Makes for great biscuits and Southern-style corn bread.

Cornstarch: Used for adding consistency to stews and gravies and thickening stews.

Crackers: Preferably whole grain for appetizers, topping casseroles, and occasional snacking.

Cream Cheese: Get creative and add lox or olives, even chocolate chips and make your own spreads for toast and bagels. Also great for appetizers, making frosting for cakes, and for adding to certain casseroles and sauces.

Cream Of Tartar: A great addition to whipping egg whites.

Dried beans: Though they do require soaking (to remove gaseousness), they are a great and healthy inclusion to soups, stews and side dishes.

Bread Crumbs: Store in the fridge and use by the expiration date to prevent it going stale of getting "bugs". Use for breading foods or topping-off casseroles. You can also add to meatballs and meatloaf for texture and consistency.

Dried Fruit: Ideal for adding to breakfast sandwiches, pancakes, cereal or to a homemade trail mix. Also ideal for naturally sweetening desserts; adding to sauces; roasting meat and poultry, and for straight-up snacking.

Dry Mustard: Perfect for marinades and spicing up recipes adding flavor and coloring.

Eggs or egg substitutes—A quick and easy "meal" in a pinch, whether hard-boiled, scrambled, made into omelets or frittatas. Also essential for cooking and baking.

Fruit juice—A naturally delicious "thirst –quencher" (though it's not a substitute for water) Great for poaching poultry and fish, roasting meats, baking, cooking and adding to cocktails or making beverages.

Garlic—Not only for enhancing the flavor of most foods and making garlic bread, it's also very healthy for you.

Ginger—A fresh way of adding a healthy spark to some "exotic" offerings.

Graham cracker piecrusts--for pies in a pinch

Honey—A healthy alternative to sugar for tea, coffee seasoning, cooking, baking or eating on toast, biscuits or cereal.

Hot sauce—Speeds up your metabolism and adds a nice kick to a variety of ethnic dishes and sauces.

Kitchen bouquet--a vegetable extract offering flavoring additional coloring to stews, soups and gravies.

Lemons—Squeeze them in your sparkling water to speed metabolism or add them to tea for flavor. You can also use them in soups and stews; they actually help extract calcium from chicken bones when making homemade chicken soup. You can also make fresh juice, squeeze into salads (in lieu of vinegar) or use the zest in cooking or baking.

Liquid smoke—a quick way to for adding a barbecue flavor to sauces, cheese, appetizers, poultry, fish and meats.

Mayonnaise—use for salads, sandwiches, salad dressings and many other dishes; low fat or fat free and organic are your best choices.

Monterey jack cheese- - a cheese with a bit of a "bite" and nice for snacking, appetizers, side dishes, casseroles, vegetables and Mexican dishes.

Mustard: Great for adding to marinades, or spreading on sandwiches. Probably healthier than mayo and a great alternative to Catsup.

Nutmeg—naturally enhances pancakes, pancake syrup, baked goods, hot chocolate, baked dishes, potatoes and sauces.

Nuts—a healthy snack (especially if eaten raw), plus they offer a nice addition to your favorite breads, muffins, desserts, casseroles and side dishes.

Oatmeal—Helps lower cholesterol. Ideal for baking, cooking and as a breakfast cereal.

Olive oil—A healthy replacement for butter when cooking, or greasing pans and the best base for making salad dressings.

Onions—Besides adding them to salads and sandwiches, they are a staple for seasoning meats, soups, stews, casseroles and lots of other dishes.

Orange extract—While not everyone's favorite, its useful for flavoring sauces, marinades and desserts.

Oranges—Great for juicing, snacking, desserts and flavoring certain foods, especially the rind.

Paprika—A favored flavor enhancer and decorative topper.

Parmesan cheese, fresh brick--for grating as needed as an addition to pasta, sauces, popcorn, bread, and so on.

Parsley, (fresh): Full of nutrients. Chop and add to dishes for flavor and color and in sprigs as garnish.

Pasta—Whole Wheat (preferably): Enjoy with clams, homemade sauce, garlic and oil, etc. Also ideal for adding to soups, stews, casseroles, or as a side dish.

Peanut butter—(natural): Perfect for breakfast sandwiches, Oriental recipes, baking and snacking.

Peppercorns-- Add whole to soups, stocks, marinades and roasts or grind for cooking and table use.

Powdered sugar—a staple for making frosting, cooking, baking, and decorating.

Potatoes: --for baking and mashing and adding to soups and stews. Smaller (red) potatoes are ideal for boiling and roasting.
Real maple syrup—Another healthy alternative to sugar that can be added to tea or coffee. It can also be used for cooking, flavoring, pancakes, waffles and French toast.

Red wine--for cooking and seasoning. It's also the perfect accompaniment to many delicious dishes, and in moderation is actually healthy for you.

Rosemary—Use in small amounts as seasoning, especially for meats.

Sage—Another seasoning for meats and stews.

Salt: Use in moderation; a staple for seasoning adding to boiling water.

Scallions and shallots: For flavor enhancer with a lighter touch than onions.

Semi-sweet chocolate: Healthier than milk chocolate used for desserts and snacking.

Soy sauce: Though high in sodium, a staple for Oriental fare for flavoring and quick stir-frying.

Sugar: Opt for raw instead to white for cooking and seasoning.

Swiss cheese: Contains less fat than most other varieties. Great for adding to sandwiches, omelets, snacking, appetizers, casseroles, side dishes and soups.

Tenderizer: For tenderizing meats.

Thyme: An herb used for adding flavor to meats, poultry, sauces, vegetables, and side dishes.

Tomato paste: Used in making pasta sauces, stews, soups and casseroles.

Tomatoes: Both canned and fresh, ideal as a base or addition to soups, sauces, stews, casseroles, salads, and other dishes.

Tuna fish: Look for high-quality wild varieties for the least exposure to mercury. Great for tuna salad sandwiches and casseroles or as a main dish

Unsweetened (baker's) chocolate: Used for baking and cooking.

Vanilla-: Natural flavoring for a variety of dishes especially deserts; only use the real flavoring or vanilla beans.

White wine vinegar: Ideal for salads, salad dressings, flavoring and cleaning coffee pots.

White wine: Used for cooking, especially some popular French foods and as an accompaniment to many delicate delicacies.

Whole Wheat Flour: A healthy alternative to white flour for cooking, baking and thickening.

Worcestershire sauce: Used for seasoning and adding color.

Yeast: For baking, causes the dough to rise.

Long Island Home & Lifestyle Articles > Perfect Pantry: Having All The Right Ingredients On Hand
Long Island Bridal Shows