Should I Stay Or Should I Go: Working Out Questions About Going Back To Work After Baby
Save to notebook

Email article
Print article
More articles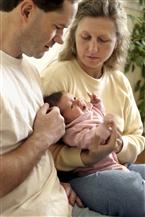 By Mia Bolaris-Forget
Lots of couples worry about being financially ready for having or welcoming to their world a baby. And, once baby arrives, many may find themselves asking "Can I afford to stay home?" or "Can I afford "not" to?"

According to experts, concerns about money and going back to work are quite common among expectant and/or new parents. And, making the right decision can be quite challenging and emotional. Her are a few things to consider.

All For One And One For All: Making a decision means discussing how it will affect all other family members, including your spouse and/or other children. All parties need to know how being a full-time professional and a full-time parent will affect your disposition and your household duties and how much everyone else should be expected to now pitch in.

Trusting Your Judgment: Experts suggest that you'll need to have 110% confidence in the person you are leaving your child with, especially if you want to do a good job, on the job. They add however, that worrying about your baby being "neglected" or being taught "values" that may go against yours won't give you piece of mind to properly perform at work. In fact, experts suggest that your professional and personal life will both suffer taking this approach, and that in this instance; on of you may be better off working less or staying home.

Financial Considerations: Experts assert that many modern day moms and dads RELY on two incomes, often "just to get by and make ends meet". On the other hand, they point out that childcare can be costly and may be defeating the purpose of "why" you're both working. They suggest adding up the number of both income and expenditures and making sure that both of your salaries put you ahead financially. And, don't forget to factor in travel time, gas, benefits and other pluses and minuses that can help you make your final decision.

Get Comfortable With Your Final Decision: Regardless of what you choose, make sure you are emotionally okay with it, letting go of any guild associated with the choice you and your spouse made. Remember, the choice your make has to be right for you, your baby, and your spouse on all levels and it should make ALL of you happy. Keep in mind that if mom and dad are "happy" chances are your child will be too.



Long Island Family Life & Parenting Articles > Should I Stay Or Should I Go: Working Out Questions About Going Back To Work After Baby