Pasta-bilities: Why passing up pasta can be a thing of the past
Save to notebook

Email article
Print article
More articles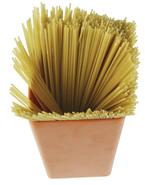 By Mia Bolaris-Forget
It's one of the foods we've so often been told to keep off our plate, if we want to keep our girlish (and/or boyish) figures from days gone by. Yet, it's the one food that most, if not all of us, are most fond of. And, it's relatively inexpensive to buy or order and equally as simple to make. Not to mention that its "can" be both nutritious and filling.

Still, for those watching their figure and would like others to keep watching it as well; as well as those with wheat allergies, until now pasta was a big "no-no" But now, with a burgeoning bevy of alternative pastas, pasta lovers have many more pastabilities when it comes cooking up "carbs"

Ssssss-wheat: Typically made from whole grains and durum wheat this popular pasta has improved in taste and texture over the years. Whole wheat pasta, though it started out as a staple for the health conscious has recently gone more mainstream and is now also available in more than just health food stores and organic markets. The bran and germ offer antioxidants that help fight heart disease and cancer. And, some brands even contain flax which adds heart-healthy omega-3 fats to your diet and that means increased fiber to help you look and feel fabulous. Experts note that bold flavours best suit this dense pasts, recommending you toss it with olive oil, broccoli rabe, sausage, garlic and red-pepper flakes.

Rice to the occasion: Rice noodles use starch rather than gluten to bind them together and they're available in varieties of white, brown, and other "wild"-rice varieties. Brown rice pastas offer a moderate amount of protein, but "does" contain lysine (an essential amino acid", making it a high-quality protein….and we all know how important protein is to a healthy diet ands staying in shape. However because of its "springy" texture and "bland" flavour, experts suggest using this pasta for cold salads and tossing with helthy herb pesto for added zest.

Sobalicious: If you've ever heard of soba noodles, it's likely you've enjoyed them at your favourite Japanese restaurant. In fact, soba is Japanese for buckwheat. However, these noodles do contain wheat and gluten, so it's best to check the ingredients if you're allergic. On the other hand, buckwheat noodles, with their distinct earthy flavour and grainy consistency offer lots of high-quality protein, as well as rutin, known for guarding capillaries and bone-building phosporus.

Experts suggest serving up in a soup with ginger, scallions and iron-fortified spinach

Splendid Spelt:/b> This ancient cereal grain contains more nutrients than wheat, and is full of thiamin and niacin with more than twice the fiber of regular wheat pasta.

Spelt pasta is hearty, nutty and firm and ideal fro rich cream, cheesy sauces and dishes such as casseroles and/or lasanas.

Corny ideas: Corn pasta is often mixed with other grains such as rice or quinoa and is best for those with celiac disease or wheat allergies. In addition, it's also gluten-free and because it gets it's golden hue form carotenoids lutein and zeaxanthin, experts say it's ideal for protecting your eyes. They recommend a perfect pairing with fresh produce that won't overwhelm its gentle texture. They suggest tomato sauce, corn, cilantro and some mild, soft cheese.

A Kumut point: This Egyptian wheat pronounced ku-moot is said to be the leader of the whole grain with 10 grams of protein per 2-ounce serving, as well and abundant amounts of antioxidants and vitamin E and selenium.

Offering a hint of sweetness, this flavourful and firm pasta lends itself to veggies such as asparagus with a wild mushroom sauce.







Long Island Development Articles > Pasta-bilities: Why passing up pasta can be a thing of the past