Bottomed Out: What May Be Holding You Back From Climbing To The Top
Save to notebook

Email article
Print article
More articles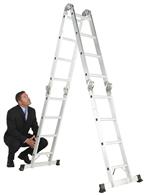 By Mia Bolaris-Forget
While most of us can't really know what we want to do with the rest of our lives upon entering college, most of us have a pretty good idea about how we plan for our life and career to go by the time we graduate. And, in many cases most of us experience "a rude awakening". From "failure" to find a job in our field to not getting the salary we hoped for and/or felt we deserved, we are also confronted with overwhelming workloads, difficult co-worker or bosses, layoffs, etc. And, we may find ourselves feeling like, for the most part, we are spinning our wheels.

But, according to experts a career (path) is never a straight and narrow path, but more like a long and winding road.

And, while most of us are or have been inclined to believe that as long as we know our stuff and do our job well, we'll (quickly) climb the corporate ladder, but experts suggest that may not necessarily be the case.

And, they say the "secrets" of success may mean cultivating your skills as a leader.

· Start by improving your people skills. You need to be able to not only speak to people in a positive manner, but also have the ability to encourage and motivate them. Remember, your skills/strength(s) will be reflected by those individuals under you and those taking orders from you.

· Cut yourself some slack. While striving to do your job well is commendable, always being right and in the limelight is not. Realize that there "are" others who are just as capable as you and be happy when it's their turn to shine. You may even learn something in the process.

· Give them the silent treatment. Keep in mind that always having an answer, response or opinion, may be a self-declared "asset", but others may think of you as a "know-it-all". Learn to listen (sometimes) without speaking, it will make your more "likable" and "trustworthy".

· Judge lest ye be judged. Experts suggest holding back on the "negative" and moving forward by focusing on the positive, the present and the future.

· Avoid unfavorable phrases including "no", "but", and "however". Starting sentences with these woeful words means you are implying something is "wrong" and are trying to improve upon someone else's thoughts, concepts, etc.

· Refrain from communicating when there's disparity or you're angry. Leaving nasty voice messages or sending nasty emails won't show that you can control yourself under pressure and stress. So, how can you expect to be put in a position of power where you'll need to be in control more often than not. But, if its something that needs to be addressed, wait until you've fully calmed down.

Long Island Money & Careers Articles > Bottomed Out: What May Be Holding You Back From Climbing To The Top