Shop Girls:
Save to notebook

Email article
Print article
More articles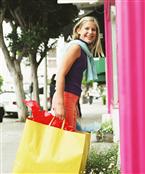 By Mia Bolaris-Forget
Something "strange" seems to happen between your tweens and teens and the time you say "I DO" and goodbye to your adolescence and carefree youth. In a sense, we all seem to "loose" our sense of style, not that we have much to be proud of when we look back at some of the fashion faux pas we made in the 80s and on our journey to discovering our fashion persona. Still, with more obligations and responsibility comes "less" of a desire to get "dolled" up, when going to the movies, or just running out to the stores. In fact, it seems society overall has taken a more "relaxed" (though some may describe it as "realistic" approach to style and fashion. From comfortable Uggs and elastic waist pants, to the advent of pj's in public, stylish sweat suits, and even casual work places and dress-down Fridays, "frumpy" seems to "be" the new fashion.

Still, some experts suggest that casual and "sloppy" are distinctly different and that both may be to "blame" for the lacking and lagging customer service. That's right, it's not, say some, the lack of training or information on the clerk's part, but actually the consumer's fault. According to recent research, studies suggest that a too casual ensemble sends others the wrong message and may give them the wrong impression of you or me.

The study also found that customers "were" sized-up and judged based on their overall appearance including clothes, hair, nails, makeup, and even quality of handbag, with ratings ranging from "poor" to "good", with those dressed to impress getting better service than their more casually clothed counterparts.