Nature Girls: The Benefits Of Mineral Makeup
Save to notebook

Email article
Print article
More articles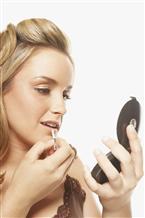 By Mia Bolaris-Forget
As part of environmentally conscious generation, many of us seek out products that are safe for us, and the world around us. And, increasingly gaining in popularity is mineral makeup.

A spawn of the earth-loving "hippy" generation, these cosmetics made of natural herbs and ingredients give ladies natural beauty without damaging their skin or the environment. At least those are the raves and claims.

Experts suggest that "naturalists" love the products and the concepts they praising its all natural ingredients, its light texture and long-lasting appeal.

Others go on to add that some of the minerals and ingredients such at titanium dioxide and zinc oxide possess anti-inflammatory properties offering a calming and soothing effect on the skin, making them especially beneficial for those who experience reoccurring rosacea and/or acne.

Dermatologists point out that these products are non-comedongenic so they don't plug up pores or aggravate acne. And, that they also offer some sun protection with most featuring an SPF of at least 15. Still, they draw the line at encouraging ladies to sleep in it. Regardless of its pure and natural ingredients, professionals point out that it's best to go to bed with a freshly washed and clean face. And, they suggest using standard sunscreen in conjunction with these "protective" products.



Long Island Health, Fitness & Beauty Articles > Nature Girls: The Benefits Of Mineral Makeup