"Pop" Art The Art Of Being A Dad
Save to notebook

Email article
Print article
More articles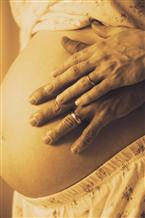 By Mia Bolaris-Forget
You know you're part of the reason this is all happening…but now you're not so sure exactly what your role is. You still have some time until you welcome your new little bundle of joy, and all you can do is hurry up and wait. Remember "dad"…being a good father is truly a work of art and begins way before the baby is born. So, want to master the art of parenthood? Start by being a superior supporting spouse during the special and exciting time.

Your New "Honey Do" List:

1. Take Action: Stay actively involved in the process. Join your wife in some new activities, including preconception, prenatal and Lamaze classes. Experts suggest jotting down any questions or concerns YOU may have about the pregnancy. Here are some additional facts you may want to make note of.
· The prenatal visit usually takes place at the end of the first trimester (months 1–3 of the pregnancy). During this time you can usually hear the baby's heartbeat.
· The second trimester (months 4–6), will usually warrant your partner having an ultrasound. The ultrasound is a test that uses sound waves to take a picture of your baby. This picture enables you to see, for the first time, your child's head, arms, hands, legs and feet. You can even find out the sex of your baby if you choose to.
· During the third and last trimester (months 7–9) prenatal visit are especially important. You can consult with your physician, or other medical professional about the final stages before birth and how your can help make it easier by help at home and during delivery.

2. Stop, Look and Listen: "Stop" what you're doing and go out of your way to learn about your new baby. Dive into videos, books, and online sites offering information about pregnancy, childbirth and parenting.
3. Baby Talk: Set time aside with your partner to discuss various parenting issues, and devise a mutually acceptable plan for raising your child.
4. Organize a "Welcome Wagon": Make your home baby friendly. Make sure the environment is safe for your new addition and that rooms and décor are bright and inviting and that you have enough baby items to welcome home your new arrival.
5. Go Back To School: Join your partner in registering for some parenting classes, and learn as much as you can.
6. Get On A Health Kick: One of the greatest contributions you can make is encouraging your partner to take care of herself and the baby by example. Quit smoking and help her do the same. Promote good eating habits, sleep habits, exercise, relaxation techniques, pamper her and help her pamper herself, and make sure she avoids exposure to dangerous chemicals and/or a hazardous or extremely stressful or unpleasant work environment.
7. Make Her Feel Beautiful and Desirable: Go ahead; take the initiative to initiate sex. It's generally perfectly fine for couples to have intercourse during pregnancy without harming the mother or the child. Your partner is probably very aware of the bodily changes taking place and will likely welcome your advances….and the fact that you still find her physically attractive. Still, experts recommend checking with your partner's health care provider first, just to be on the safe side.
8. Champion Her Efforts: Remember your partner will most likely be the primary caregiver to your child. Professionals express the importance of validating her abilities, praising her efforts and a job well done and supporting her decisions.


Long Island Family Life & Parenting Articles > "Pop" Art The Art Of Being A Dad