Dishing It Out: Making Meals Health AND Tasty
Save to notebook

Email article
Print article
More articles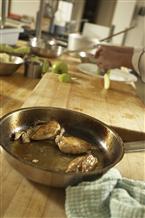 By Mia Bolaris-Forget
From hoping and praying for a health pregnancy and a happy, healthy bouncing baby, to maintaining our own well-being, we, especially in the last decade or two, have become a "health-obsessed" nation.

And, from green cleaning products to organic fare, we've found out that we ARE often what we breathe in and eat.

Words such as organic, free-range and antioxidants have become familiar terminologies in our vocabularies as more and more of us try to eat healthy incorporating more fruits, veggies and whole grains. But, new studies suggest that it's not only "what" you eat that matters but how your slice, dice and cook up what you eat that has an impact.

Not only are heavy sauces and fatty fare on the foods to avoid list, so are foods cooked longer and hotter. In fact, the higher the heat and the longer the timeframe the more carcinogenic compounds you create, especially with meats. They add that overcooking fats and oils can also generate toxins, and while "once in a while" indulging in these "delicacies" is nothing to worry about, constant or frequent consumption can spell trouble.

Still, experts suggest that looking and feeling good go hand-in-hand with eating well and that good (tasting) food CAN also be good for you.

1. Simplify Your Life: Fancy fares may seem fabulous when flipping through the cooking channels, but experts suggest that whipping up elaborate meals may also mean elaborate calories. Instead they suggest keeping it simple and spicing things up using hers and spices, especially those containing phytochemicals.

· Bake, Bake, Bake Senora, Bake Your Body Light: While most of us think of breads and pastries when we think of turning on our ovens, experts suggest that baking is a great way to prepare main meals from seafood to seasoned veggies. They recommend backing off on extra oil or fat to keep meats moist and instead allowing them to cook in its own juices, in covered cookware. They note that high temperatures of 300 degrees or above, while "perfect" for root veggies such as spuds and starch should be lowered when it comes to cooking fish and meat.
· McSteamy Meals: Want a Mcdreamy meal? Experts suggest using a metal or bamboo basket over boiling water as the easiest way to steam foods. Not only does this prevent limb veggies but it helps them retain their flavour and nutrients.
· Stir Things Up a Bit: Traditional Asian cooking, traditionally calling for a wok and foods that are stir fried means healthy, delicious meals in just minutes. Experts suggest maximizing health benefits by using cold-pressed canola or peanut oil, bringing the cooking to an end before the oil smokes, making it toxic and carcinogenic. And, if you "do" see smoke, experts suggest, you guessed it, starting over.

· Sizzling Sensations: Experts suggest sautéing chicken, fish, veggies, etc. Not only are these foods packed with essential nutrients but keeping the flame at medium helps to also seal in the flavour. Experts suggest adding an extra "snap" to veggies with a combination of sautéing and steaming. After you briefly sautéed your veggies, they recommend adding a little water (to the pan) and allowing the veggies to cook until they are tender and crisp. Remove the lid just about when they are fully cooked and allow the additional water to evaporate.

2. Cook With Caution: Get familiar with tradition, taboos and trends.

· Reaching your boiling point: While a relatively "popular" way to prepare spuds and veggies, boiling foods offers little in the way of nutrition. In fact, experts assert that it leaches nutrients out of some of nature's most fabulous foods. They recommend steaming both veggies and spuds instead, though they add that boiling them at low temps in soups is fine, since the broth captures all the nutrients.
· Broiled over: Pros and experts alike agree that just like grilling, broiling meats to a well-done is anything but a cooking job well done. In fact, they suggest that this method of "overcooking" creates HCAs and recommend cooking meats only until they are medium all the way through. They also suggest broiling or grilling on a raised broiler pan, allowing for the fat to drip off the meat, reducing the fat and calorie content, but caution that this has no effect on the HCA levels.
· Making waves: When it comes to convenience, microwaves are seemingly the wave of the future, but there are varying opinions and mixed finding about the effects of this cooking strategy. Experts suggest airing on the side of caution and safety. They recommend defrosting foods in the fridge rather than in the microwave, and avoiding plastic bags, containers or covering foods in plastic wrap since the heat can release harmful chemicals from the plastic into the food.
· b>Grilled to perfection: While blackened food is tasty, it's not necessarily healthy. According to experts the charring of meats is shown to result in a release of chemicals known as heterocyclic amines (HCAs), and advanced glycation end products (AGEs) that have been linked to an increased risk of cancer, cardiovascular disease, diabetes, Alzheimer's disease and other chronic ailments. In fact, recent research revels that the more AGEs in our food, the higher the incidence of inflammation.

However, believe it or not, some grilled foods are not "as bad" for you. Experts suggest veggies in place of lean meats and fish, since HCAs don't form in vegetables. Still, the black char on veggies should be avoided and lean meats and fish should be frequently flipped to keep them out of constant direct line of fire from the grill. Also, experts suggest basting or marinating foods first, preferably in marinades that offer a combination of rosemary, thyme, garlic and a variety of other antioxidant-packed herbs and spices, noting that they help curb the formation of HCAs significantly.

3. Danger Zones: While you don't have to give up "unhealthy" cooking methods all together, the following two should be eliminated more frequently than not.
· Deep-Frying: Letting anything sit and soak up oil is simply unhealthy, adding fats, primarily trans fats to even the healthiest of foods.
· Pan-Frying: Though a bit better overall for you than deep-frying, it's still and unhealthy way of cooking, especially when it comes to meats, poultry and fish, since it produces a significant amount of HCAs and releases them into your otherwise healthy foods.






Long Island Home & Lifestyle Articles > Dishing It Out: Making Meals Health AND Tasty
Long Island Bridal Shows