Cool, Cool Summer: Keeping Your Cool Without AC
Save to notebook

Email article
Print article
More articles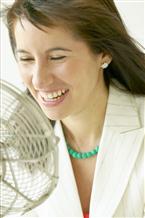 By Mia Bolaris-Forget
While it may be difficult to believe, there are some people who don't have air conditioning or simply haven't gotten it installed yet.

Yet, in the summer's often scathing heat, it becomes difficult to "chill out" and get some solid sleep.

And, lack of sleep can result in a multitude of other issues. So, if you want to know just how to beat the heat, without working up a sweat, here are some very "cool" suggestions.

1. Plug in your fan and turn it toward you. Invest in a commercial bag of ice (cubes) and empty into a wide, shallow receptacle to contain the water as it melts. Place the receptacle (filled with ice) in font of the fan (between the fan and you) and level with the bed. The Ice-cooled air will make a significant difference in the rooms temperature and the amount of time it takes for the ice to melt, making it easier for you to get some shut eye.

2. Another method is the towel method. Simply hang a wet towel from two chairs to serve as a means for holding the ice. The melting ice will wet and chill the towel and the fan will blow the cold air in your direction. Don't forget to place a container under the towel to catch the melting ice. You can even place a thread to connect the bottom of the towel with the receptacle to avert the drip, drip, drip of melting (ice) cubes.

3. Cool off with a nice cool shower or by wiping yourself down with a cool, damp cloth. Now, hop back into bed without wiping yourself off.

4. Rely on ancient Egyptian secrets. Wet a sheet or (large) bath towel, wring it out or run through the spin cycle of your washing machine until it is wet, but not soaking wet, and place underneath your body and/or using the wet sheet as your blanket.

5. Rinse a pair of cotton socks in cool or cold water and wring them out until they are just damp and place them on your feet before heading off to sleep. Cooling off your feet generally lends to lowering your body temperature overall.

Long Island Home & Lifestyle Articles > Cool, Cool Summer: Keeping Your Cool Without AC