The Spice Of Life: Increasing the Benefits from Your Food With Healthful Spices
Save to notebook

Email article
Print article
More articles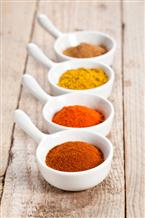 By Rachel Derry
Staff Writer LIFamilies
You already know that there are specific foods that can contribute to better health. What you may not realize is that some of those spices in your cupboard may do the same. By spicing up your favorite foods with these superstar extras, you will boost your antioxidant and nutritional intake without adding any additional calories to the mix.

First, and my favorite, is ground cinnamon. Already a household favorite to add to breakfasts and desserts, sprinkling a little extra cinnamon into your day helps your body control the sugar that you ingest, acting almost like insulin. This is a great additive if you have blood sugar issues or if anyone you're cooling for is diabetic. An extra way to add a little cinnamon to your day is to mix it in with your morning coffee grinds. It cuts the bitterness of the coffee and also flavors it nicely.

Another superstar of your spice rack is the ground ginger. In just a teaspoon of ginger you will find as many antioxidants as an entire cup of spinach, and for many the taste goes a lot further, too! For a great honey glaze for carrots, ham, or salmon, add in a little ginger and heat if up. Ginger also goes great sprinkled over slices of fresh fruit or stirred into ice cream!

An everyday spice that supplies more kick than you could imagine is your usual dry oregano. Great in pasta sauce or sprinkled over a fresh tomato salad, a teaspoon of oregano has as many antioxidants as 3 cups (yes, cups) of chopped broccoli. Make sure to mix in your oregano to your usual dishes, and add it to a few more as well. Sprinkle a little into your grilled cheese sandwich for a little gourmet flavor!

A popular component for herb gardens Island wide, rosemary is another great spice to keep on hand, either fresh or dried. Having a lovely aroma, many would-be chefs choose to keep this herb in their kitchen window year round. Adding a little to your marinades or roasting with your potatoes and chicken, rosemary acts as an anti-inflammatory in your system and, in turn, helps combat the many chronic diseases that cause inflammation, such as arthritis.

Then there is always the flaming favorite; the dried red pepper family. Red pepper spices, such as cayenne, paprika, and crushed red pepper flakes have long been a foodie's friend. They provide a delightful bite and bring life to the usually mundane. An added benefit of these spicy flavors, however, is that they do in fact help with dieting, a long suspected fact. Spices derived from red peppers help to speed up your metabolism, which in turn processes the nutrients that you consume and pushes out the excess more quickly.

Long Island Health, Fitness & Beauty Articles > The Spice Of Life: Increasing the Benefits from Your Food With Healthful Spices