The "Ugly" Truth About Beauty Products: How Safe Is Your Makeup?
Save to notebook

Email article
Print article
More articles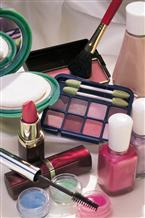 By Mia Bolaris-Forget
Contrary to what we've been taught, looking good is not necessarily synonymous with feeling good. Sure WE may feel better about ourselves, but according to recent research "Intoxicating" beauty may be just as dangerous and deadly as excessive drinking.

In fact, studies (done on animals but said to show effects on humans) reveal that pervasive chemicals, (called phthalates), in cosmetics and some industrial adhesives, medical and consumer goods made with polyvinyl chloride plastic (PVC), which also includes a multitude of baby toys, can be linked to lung, liver and kidney damage, as well as to birth defects.

Scientists say most at risk are women of childbearing age (ages 15-45) and (their) unborn baby boys, adversely affecting the development of their testes. Additionally, the anti-phthalate lobby attributes a variety of other male reproductive disorders on the male fetuses exposure to these dangerous chemicals. Among these, undescended testes, hypospadias (a misplaced urethral opening), reduced sperm quality, and even testicular cancer.

According to experts, product manufacturers use these chemicals to augment flexibility to their products and to help dissolve other ingredients.

Despite the (negative) correlation, and a recent movement by the European government to phase-out two phthalates found in beauty products, the FDA does not (currently) regulate the use and amount of phthalates in cosmetics and beauty products. Nor does it mandate the information be disclosed. In fact, it's quite common that information pertaining to phthalates and their inclusion in your favorite products is rarely listed on the label.

While phthalate-free alternatives are available in every product category, experts and authorities in the beauty industry assert that according to some scientific studies, the products are safe. They state that the levels of chemicals in cosmetics and beauty products are "negligible" and not enough to pose a danger or threat.

The Facts:

· As of January 2003, the European Parliament prohibits the use of two phthalates, DEHP and DBP in cosmetics

· Phthalates are absorbed via the skin, inhaled as fumes, ingested through contaminated foods or when children bite or suck on toys (made of PVC), or are indirectly administered to patients from some PVC medical devices

· Extensive animal testing had proven that phthalates can damage the liver, the kidneys, the lungs and the reproductive system, especially in developing male fetuses.

· Phthalates are among the main "ingredients" in a variety of common cosmetics and beauty items. Among these, hairspray, deodorant, nail polish and perfume.

· While it may hold true that the level of phthalates in a single product is barely noteworthy for concern, exposure to a variety of products that include these chemicals certainly is. Most of us likely use an assortment of products and are subject to their overall effects. Experts recommend limiting your usage and exposure by cutting back on usage or by eliminating products that contain phthalates or those made from soft PVC plastic and vinyl (such as vinyl flooring, shower curtain, wallpaper, food containers, etc.)



Long Island Health, Fitness & Beauty Articles > The "Ugly" Truth About Beauty Products: How Safe Is Your Makeup?