Green Gatherings: Hosting An Eco-Friendly Event
Save to notebook

Email article
Print article
More articles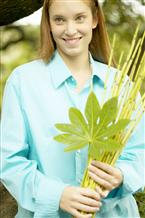 By Mia Bolaris-Forget
Green is not just for holiday time anymore. In fact, green themes are all the rage for naturally spectacular celebrations that are also earth-friendly.

Center your centerpieces around natural elements such as a jar of fresh fruits including oranges, lemons and limes or some potted plants or herbs in lieu of fresh cup flowers. And, it's probably a better idea to use real china instead of disposable dishes and flatwear. You can even mix and match for a fabulously "funky" and eclectic appeal. But if clean up seems like a calamity to you, look for bamboo products that tend to be more "trendy" and chic than paper of plastic and that are also biodegradable.

When it comes to the meal, keep it green by serving up plenty of greens, preferably those grown locally. In fact, shopping at your local farmer's market helps cut back on (added) shipping costs and waste from shipping and packaging.

Focus on serving "finger foods". Not only are these tasty tidbits easier to eat, especially if you're having a fairly "large" crowd, that not suited to sit-down-supping, but it helps cut back on work, especially cleanup, ad they can easily be handled on a napkin.

Create naturally beautiful ambiance with natural lighting. Consider hosting a midday to afternoon event that will give you all the benefits of daylight and sunlight (if you plan to go outdoors). For a "swankier" celebration, schedule your soiree at dusk, since the lighting makes guests look and feel their party best. Also consider soy or beeswax candles for eco-friendly ambiance for evening celebrations and if additional lighting is needed, reach for compact fluorescent bulbs that make the least carbon impact.

Invites should preferably be paperless if you want to help preserve nature by saving trees. Plus, they generate less waste; not to mention they are free.

Long Island Green Living Articles > Green Gatherings: Hosting An Eco-Friendly Event