Trendy Transformations: Getting Into The Holiday Spirit
Save to notebook

Email article
Print article
More articles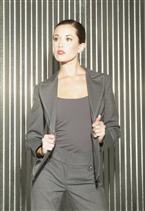 By Mia Bolaris-Forget
The holiday season is upon us and if you've hit the overcrowded mall this year, it's likely you're not feeling very "festive", at least not by the time you're done finding everyone on your list the "perfect" gift. And, that probably means less time for you, especially when it comes to picking something special out for all these fancy fetes.

Consider instead saving some money by revamping up your office ensemble by vamping it up for an after hours gathering that's polished, professional and the right fit for almost any type of party.

· Dress up an office pantsuit by unbuttoning a button or two or your business blouse or by slipping out of a cashmere sweater and into something a little more shimmery. And, don't forget to trade in your traditional black pumps in for a bolder pair in a colour to match your festive top. Add some opulent costume jewelry, a colourful shade of lipstick, and a classic clutch for a chic and charismatic look.

· Men, trade in your pleated trousers for a more straight fitting style and replace the business jacket with a funky button down vest. You can even change up your tie for something a little more "daring" and decorated.

· Skirts can just as easily be transformed from corporate casual to chic and sophisticated. Swap your office sweater for a silk shirt and a nice pair of peep toe Mary Jane's

· Men can convert corporate casual into celebratory chic by trading in their button down for a t-shirt and sweater in opulent season colours for a more relaxed holiday look.

· For ladies who work in a "hip" and "haute" environment, the emphasis, should be on "taking it off" for the office party. Consider wearing something party-appropriate but pairing it with a suit jacket or sweater you can simply toss aside once your day is over.

· Guys who work in a "trendy" setting can dress for success both at work and after hours and keep it looking festive all day and night long.

· Ladies on the go can make simple "wardrobe" changes to dress up their look for the holidays. Rather than changing into something more festive consider instead adding a hint of holiday hue to your lips and a bit of shimmer to your lids.

· Guys on the go can do a "quick change" by slipping on a trendy chapeau and a haute holiday scarf.


Long Island Other Articles > Trendy Transformations: Getting Into The Holiday Spirit