Baby Foods: Foods That Get The Stamp Of Approval For Consuming During Pregnancy
Save to notebook

Email article
Print article
More articles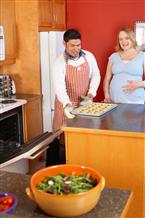 By Mia Bolaris-Forget
Most people "traditionally" have viewed pregnancy as an "excuse" to eat for two, or at least more than they otherwise would. But, when it comes to your health and the health of your baby, experts note that some of the things you enjoy just may not be good for you. In fact, though each doctor has his opinion and specific suggestions, there are the "standards" of things to avoid.

Raw Foods: While raw veggies may be just fine and full of essential nutrients, raw "meats" such as steak tar-tar, uncooked seafood and/or undercooked beef and poultry should not be eaten due to increasing your risk of contamination with coliform bacteria, toxoplasmosis and salmonella.

Deli Selections: Deli meats such as common cold cuts are a no-no since they are known for being contaminated with Listeria putting your at risk for a miscarriage. In fact, Listeria is known for its ability to reach beyond the placenta, infecting the baby and resulting in infection or blood poisoning, which may be life-threatening. For those ladies who have been trying and aren't sure, or for those you simply have to have a slice of bologna or salami, experts suggest reheating deli meats until they are steaming hot, killing bacteria and the Listeria.

Certain Sea Foods: Though fish IS healthy, you're not off the hook when it comes to fish containing high levels of mercury. In fact, experts suggest that fish containing significant levels of mercury can be linked to certain developmental delays and brain damage in some instances. These fish include shark, swordfish, king mackerel and tilefish. While tuna is not completely restricted, professionals suggest chunk light tuna in moderation. And, they recommend omitting certain types of sushi as well, including the following:
Highest mercury
AVOID
Kajiki (swordfish)
Saba (mackerel)
Shark
Tilefish
High Mercury
Eat no more than three 6-oz servings a month
Ahi (yellowfin tuna)
Buri (adult yellowtail)
Hamachi (young yellowtail)
Inada (very young yellowtail)
Kanpachi (very young yellowtail)
Katsuo (bonito)
Maguro (bigeye, bluefin or yellowfin tuna)
Makjiki (blue marlin)
Masu (trout)
Meji (young bigeye, bluefin* or yellowfin tuna)
Shiro (albacore tuna)
Toro (bigeye, bluefin or yellowfin tuna)
LOWER MERCURY
Eat no more than six 6-oz servings per month
Kani (crab)
Seigo (young sea bass)*
Suzuki (sea bass)*
LOWEST MERCURY
Enjoy two 6-oz servings a week
Aji (horse mackerel)
Akagai (ark shell)
Anago (conger eel)
Aoyagi (round clam)
Awabi (abalone)
Ayu (sweetfish)
Ebi (shrimp)
Hamaguri (clam)
Hamo (pike conger; sea eel)
Hatahata (sandfish)
Himo (ark shell)
Hokkigai (surf clam)
Hotategai (scallop)
Ika (squid)
Ikura (salmon roe)
Kaibashira (shellfish)
Kaiware (daikon-radish sprouts)
Karei (flatfish)
Kohada (gizzard shad)
Masago (smelt egg)
Mirugai (surf clam)
Nori-tama (egg)
Sake (salmon)
Sawara (spanish mackerel)
Sayori (halfbeak)
Shako (mantis shrimp)
Tai (sea bream)
Tairagai (razor-shell clam)
Tako (octopus)
Tamago (egg) Tobikko (flying fish egg)
Torigai (cockle)
Tsubugai (shellfish)
Unagi (freshwater eel)
Uni (sea urchin roe)
Chart obtained from the Natural Resource Defense Council (NRDC); data obtained by the FDA and the EPA.


And, if you have any questions or concerns about which fish to eat and which to avoid, please refer to the following information and chart.


Highest Mercury
AVOID Eating
Grouper
Marlin
Orange roughy
Tilefish
Swordfish
Shark
Mackerel (king)
High Mercury
Eat no more than three 6-oz servings per month
Bass saltwater
Croaker
Halibut
Tuna (canned, white albacore) See tuna chart below
Tuna (fresh bluefin, ahi)
Sea trout
Bluefish
Lobster (American/Maine)
LOWER MERCURY
Eat no more than six 6-oz servings per month
Carp
Mahi Mahi
Crab (dungeness)
Snapper
Crab (blue)
Herring
Crab (snow)
Monkfish
Perch (freshwater)
Skate
Cod*
Tuna (canned, chunk light)
Tuna (fresh Pacific albacore)
LOWEST MERCURY
Enjoy two 6-oz servings per week
Anchovies
Butterfish
Calamari (squid)
Caviar (farmed)
Crab (king)
Pollock
Catfish
Whitefish
Perch (ocean)
Scallops
Flounder
Haddock
Hake
Herring
Lobster (spiny/rock)
Shad
Sole
Crawfish/crayfish
Salmon
Shrimp
Clams
Tilapia
Oysters
Sardines
Sturgeon (farmed)
Trout (freshwater)
Chart obtained from the Natural Resource Defense Council (NRDC); data obtained by the FDA and the EPA.
Tuna mercury levels can be different based on the type of tuna and where it was caught. The NRDC created the chart below as a guideline to how much tuna can be eaten by children, pregnant women or women wanting to conceive, based on their weight.
Weight in Pounds Frequency a Person Can Safely Eat A 6-ounce Can of Tuna
White Albacore Chunk Light
11 1 can/4 months 1 can/6 weeks
22 1 can/2 months 1 can/23 days
33 1 can/5 weeks 1 can/2 weeks
44 1 can/4 weeks 1 can/12 days
55 1 can/3 weeks 1 can/9 days
66 1 can/3 weeks 1 can/8 days
77 1 can/3 weeks 1 can/week
88 1 can/2 weeks 1 can/6 days
99 1 can/2 weeks 1 can/5 days
110 1 can/12 days 1 can/5 days
121 1 can/11 days 1 can/4 days
132 1 can/10 days 1 can/4 days
143 1 can/9 days 1 can/4 days
154 1 can/9 days 1 can/3 days
165 1 can/8 days 1 can/3 days
176 1 can/week 1 can/3 days
187 1 can/week 1 can/3 days
198 1 can/week 1 can/3 days
209 1 can/6 days 1 can/2days
220 1 can/6 days 1 can/2 days
Source: Food and Drug Administration test results for mercury and fish, and the Environmental Protection Agency's determination of safe levels of mercury.

Smoked Seafood: Selections such as lox, nova style, kippered or jerky are not recommended since there's the possibility of them being "infected" with Listeria. However they are safe if cooked or baked since the heat is likely to kill the Listeria. Canned of shelf-safe smoked fish also gets professional and expert approval.

"Free-Roaming" Fish: Pregnant women should avoid seafood that is caught from contaminated rivers and lakes or those thought to have exposure to increased levels of polychlorinated biphyenyls, a warning applied mostly to fish found in local lakes and streams, including, striped bass, salmon, pike, blue fish, trout, and walleye. However, experts recommend contacting the Environmental Protection Agency for a list of which fish in your area are safe to eat. Keep in mind, this list refers to those caught in area waters ad not those bought from your grocery store.

Shellfish In The Raw: According to experts most seafood-induced illness is due to undercooked shellfish, including oysters, clams and mussles. They add that while cooking targets some infections it does not tackle those that are algae related and associated with red tides. In fact, experts suggest that raw shellfish can be a problem for everyone, not just pregnant women, but should be totally avoided during this special time.

Raw Eggs: Okay, so not many of us would eat raw eggs, but some recipes may call for raw eggs, and experts suggest those should be equally avoided, since they pose a risk for salmonella. These recipes may include those for Caesar dressings, mayonnaise, homemade ice cream and/or custards and Hollandaise sauces. Note that if cooked at any point, you significantly decrease the risk for Salmonella. And store manufactured versions made with pasteurized eggs are on the okay list. Restaurants typically use or should be using pasteurized products, but if you're pregnant you may want to ask.

Soft Cheeses: These imported cheeses are noted for containing Listeria and being a risk for miscarriage. They include feta, Roquefort, brie, camembert, gorgonzola and some Mexian cheeses such as queso blanco and queso fresco, unless it's noted on the package that they are made from pasteurized milk….a seal of approval that applies to ALL soft cheese.

Other Unpasteurized Products: Milks, yogurts and other products that may be made from unpasteurized milk put you again at risk for miscarriage due to the potential presence of Listeria.

Meat Spreads and Pate: Again avoid because of the potential presence of Listeria. But, only avoid refrigerated varieties, those that are canned or shelf-safe are okay.

Caffeine Containing Foods: While not completely ruled out, some studies suggest that caffeine content may be related to miscarriage, premature birth, low birth weight, and withdrawal symptoms in infants. Experts suggest saying "no" to caffeine at least during the first trimester and after that taking in no more than 300 mg per day. Remember caffeine is a diuretic and that means its job is to rid the body of fluids, which may mean a loss of water and calcium, making it important for you to drink plenty of water, milk, and juice.

Alcoholic Beverages: This one is a total no-no and should be entirely avoided during pregnancy. In fact, there are some schools of thought that suggest that you eliminate alcohol even if you think you are pregnant and/or are trying to conceive. Experts note that prenatal exposure to alcohol can interfere with your child's healthy development, and depending on the amount, frequency and type of alcohol consumed may lead to Fetal Alcohol Syndrome and/or other developmental disorders. Professionals add that women who are still drinking should stop immediately once they know they are pregnancy and should stay away from alcohol until they are done breastfeeding.

Unclean Veggies: While raw veggies are fine, and in fact, recommended, unwashed veggies are NOT. Experts strongly recommend ensuring veggies are thoroughly washed to prevent exposure to toxoplasmosis, which may contaminate the soil in which the veggies were grown.


Long Island Family Life & Parenting Articles > Baby Foods: Foods That Get The Stamp Of Approval For Consuming During Pregnancy
Long Island Bridal Shows