It's A Wrap: Finding The Right Gift For Those On Your Holiday List
Save to notebook

Email article
Print article
More articles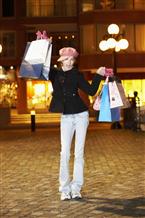 By Mia Bolaris-Forget
With malls and stores displaying holiday merchandise at the first signs of the fall season, as far back as the end of August when school was just about to start, most of us have been bombarded by advertising and cleverly coerced to start thinking about the "season of giving".

And, while many of us were able to dismiss the not so subtle shopping signals in the beginning, we are realizing that the holiday season is really, once again, upon us. And, though they shelves may seem stocked many of us may find ourselves stumped by what to buy for those on our gift list.

After all, while most of us have been victim of receiving a "thoughtless" gift, we certainly don't want to be convicted of the same "crime". Yet, when it comes to picking the perfect present for our family, friends and peers, what we may perceive as "perfect", may not be so pleasing to the recipient.

Here are a few tips to help you make the right selection with minimal stress and relatively little effort.

Experts suggest starting by "categorizing" those on your shopping list and distinguishing them by the nature of your relationship and the intensity of your closeness. For those who want to be really thorough and seem really thoughtful, you can create subcategories under each main category.

1. Colleagues and Clients: Depending on how closely you work with each individual, how well you know and like them, etc. your choice of gift may vary. For individuals that you have only a "casual" relationship with a holiday card will suffice. Subordinates should get a special treat such as a favourite delight (chocolate, coffee, a good book), while supervisors and special clients as well as close colleagues should get something more "personal" and poignant (gift certificate, mani/pedi, etc)

2. b>Close Friends: These bosom buddies should get something not only "personal" but also meaningful. While wine or a nice bottle of booze is always appreciated, especially during this "homey" time of year when most of us are entertaining, some experts suggest kicking it up a notch, perhaps by offering a liquor or wine and cheese basket or signing them up for the wine, beer or fruit of the month club. You may also consider items such as CDs, DVDs or other "personal" or household items you know they will use and appreciate.

3. Relatives and Immediate Family: These gifts should be personal, meaningful, and should typically cost a little more than those your bought for folks in the other two groups. Consider something you know your family member needs. You may even want to pick a particular theme for each year. Get dad something for his latest hobby or the most recent techno craze. The same goes for your big brother or the "boys" in your family over 18 or 20. For the ladies, consider nice clothing, handbags, spa days, etc. And, for the under 18s or 20s consider something suitable for THEIR particular interests or lifestyle. Just make sure it's also practical.

4. Your Special Somebody: Depending on finances, years together, etc., this gift is typically among the most extravagant and the one you'll likely spend the most on. Think practical and meaningful but cool and something that show not only how much you care, but also that you were paying attention to what your honey wants and needs.

Long Island Home & Lifestyle Articles > It's A Wrap: Finding The Right Gift For Those On Your Holiday List