Mother and Child Reunion: Bonding With Baby
Save to notebook

Email article
Print article
More articles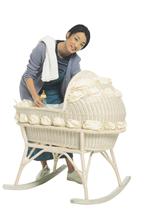 By Mia Bolaris-Forget
With all the post wedding excitement of being a newlywed and the prospect of starting your own family and even the altruistic anticipation of giving your parents grandchildren, trying to conceive has become the "glam" "trend" of the millennium.

From Hollywood to Brentwood and beyond everyone seems to be eagerly jumping on the baby bandwagon, lauding the old fashioned values of familydom, and motherhood as the most important, rewarding, and fulfilling job for a woman. In fact, more than one famous femme fatal has proclaimed motherhood as the only way a women can achieve "completeness"

Still, trying to conceive is still quite a ways from conception, and all the realities that accompany it. Surely, you're excited about finally getting pregnant, but once the morning sickness and bulge kick in, so do many of the other concerns of parenthood, including your preparedness to cope with and handle your new position and this very new family situation. Are you in fact ready for the extra responsibility, the sleepless nights, the additional fatigue or becoming a stay at home mom. What about your ability to relate to and bond with your child, as well as your ability to properly guide them into adulthood? According to the experts these very valid and serious question may bring to light many of the not so exciting realities of parenthood and of your own "issues". Professionals point out that these feelings are quite normal and all part of the pregnancy process. They also emphasize that despite your ambivalence and hesitation, most parents can rest assured that you and your child WILL ultimately bond, even though it won't be quite so apparent at first, will flourish over time.

Love Takes Time: Bonding Is A Process: While most moms expect an instantaneous connection to the human life they've been carrying around and caring for, for nine months, many find that in actuality they feel as if this new family member is a total stranger. Just remember how long it felt to feel connected to your spouse, and chances re your probably dated or lived with him for quite some time. Your child, though more a part of your than your partner, no doubt takes some getting use to. Statistics show that less than 50% of new moms get attached to their new addition within the first few hours after deliver. For the majority, the process is a more gradual one and some may even experience postpartum depression. Take heart, you're not alone and you don't have t feel an immediate connection. Instead, allow you and your baby to settle in and get to know each other, the rest will follow naturally.

Out Of Sight, Out Of Mind: Many women may feel "disconnected" from their child and attribute it to the fact that for nine months (or nearly nine months) you've "bonded" with a child that wasn't really there. Sure he or she was inside your belly, but you both had very little interaction. According to experts, the opposite is true. Remember, you and your baby have been forging a connection for close to 40 weeks, with all essential life activities closely intermingled. Your breath furnished your baby with oxygen, what you eat provides necessary nutrients, how relaxed or stressed you are can even have an impact on his/her disposition. Experts suggest using your gestational period to nurture your relationship by talking to your child, focusing on your child's growth and movement, etc. According to the experts, the stronger the connection you have with your child when he/she is in the womb, the better your chances of more easily bonding with him or her once he or she is born.

When Push Comes To Shove: Another important factor concerning how you will relate to your baby is labor and delivery. The easier and smoother the delivery, the more energy and enthusiasm for bonding with your child will be available. According to experts, women who experience difficult deliveries face grater difficulty in bonding with their children. Women who have relatively "easy" childbirths are, on the other hand, tend to feel better physically and emotionally and have more to offer their newborn, including a more relaxed attitude and pleasant disposition. Experts note that one way to ensure a more peaceful and rewarding experience is by offering the expectant mother continuous support during labor.

Increasing Your Odds: (Some tactics to make bonding a bit faster and easier)
Most professionals acknowledge the importance of immediate contact between parent and child to foster that special bond. In fact, often times health care practitioners will place a child in the mother's arms immediately following delivery, umbilical cord still attached. They further note that rooming with your child allows you to feed on demand and get accustomed to his/her signals. At home there are other steps you can take to step up the bonding process:

· Pack and Go: Studies reveal that nearly 90 percent of infants worn in a front carrier were strongly bonded with their mothers (or carrying parent, as opposed to only 38 percent of those toted in car seats.


· Baby Your Baby: Show your new family member lots of love and affection. Pick your child up when he or she cries or just to demonstrate love and caring….infants need extra love and attention.

· Nourish his/her needs: While most experts recommend breastfeeding for fostering a parent/child bond they suggest snuggling your little one if you choose to bottle-feed. They note that infants who are cuddles and coddled develop stronger parental bonds than those who are not.

Someone To Lean On: No matter how strong, independent and "together" you are, having and caring for a baby is a huge responsibility. Make sure you surround yourself with a positive support system of friends, peers and family who can either help you, give you some "sanity" time to yourself, take you out, or offer some words of wisdom. While experts agreed that there is no connection between how long it takes you to bond and how effective a parent you'll be they do note, that often mother's who lack immediate "maternal instinct" may suffer from feelings of guilt, which may ultimately lead to postpartum depression. If you are experiencing bouts of depression or anxiety, experts note that you are quite normal and recommend confiding in friends and family, and especially your spouse, as well as in your health practitioner. They also suggest eating well, getting adequate sleep, and staying active, especially with regard to activities that involve your baby and could lead to new friends and experiences for you.



Long Island Family Life & Parenting Articles > Mother and Child Reunion: Bonding With Baby
Long Island Bridal Shows