Va Va Voom: Awakening Your Inner Vixen
Save to notebook

Email article
Print article
More articles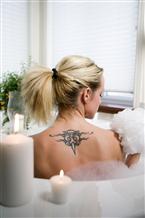 By Mia Bolaris-Forget
While many ladies have been taught (by mom and other adults in charge) to practice abstinence or at least discretion in sex (before marriage) and while some can boast to heading this (sound) advice, while others take pride in allowing their passions to run wild, we can all recall a time when sex was among our key concerns. Form how we looked, walked and talked, it was all about the mating game and attracting the opposite sex, even if we never intended on actually "going all the way". Still, we wanted to know we were appealing, wanted, and YES, sexually arousing and desirable.

And, while no women willingly wants to relinquish her sensuality and ability to turn some serious heads, many, say experts, suffer from a lack of interest in physical intimacy. Sure attracting others and being to our mates remains on the importance list, just not as high up, and for many its more the "thrill of the case" and not the actual act that remains appealing. After all it validates us and credits us as women. But, the loss of interest in sex does little to validate our mate.

Yet, this "phenomenon" is quite common, say experts, regardless of age. In fact, research reveals that it can affect anywhere from 33% to 67% of women depending on how each defines sexual desire. And, the loss of libido can also occur in some men, but its not quite as common a "condition" as it is in women. With that said, especially since it can affect you personal confidence and your relationships experts note the importance of understanding what it is, why it happens and what can be done.

Defining Loss of Libido: This can tend to be one of those "ambiguous" terms, since, according to experts; it can be more psychological than physiological. Also everyone defines sexual desire and fulfillment differently. However, a broad and simple definition suggests that it's a prolonged lack of interest in any sexual activity or intimacy ranging from several months to years. And, ladies definitely know when they feel it.

Classifying It As A "Disorder": While many ladies may in fact feel "dysfunctional", experts note that the "condition" is not necessarily a "disorder". In fact, they note that its quite common and normal and at any age. They even go on to add that it's a typical result of an imbalance in your life, in your relationship, your life circumstances or your body.

But, they add that while its not unusual, its not preferable nor healthy and they encourage women to take charge of "fixing" it. They add that lots of ladies lose confidence in themselves and feel as if they are displeasing to their mate or spouse and feel "out of the loop" in today's sexually explicit and sexually charged world. In fact, overall, say experts we are made to believe that we should ALWAYS have sex on the brain, and if we don't we are one of very few that has something wrong with us.

And, besides taking a toll on your image and your marriage/relationship, it can also result in packing on a few pounds, and taking a toll in various other areas of your life, primarily those that also once gave you pleasure. In fact, women who lose passion for sex are noted for also losing interest in taking care of themselves overall, until they eventually become, according to experts, numb. And, what's worse is though women know it's happening they don't necessarily understand it or know why, many feeling defeated and helpless.

Getting To The Root Of The "Problem":

· Biological burdens:

o Ladies may feel the pressure of the consequences of intimacy and sex before they even happen. Lets face it babies change our lives forever and women may want to tread cautiously and carefully when it comes to permanently altering their life.



o For many ladies, pregnancy is a threatening condition. Not only does it mean more lifestyle adjustment for women as opposed to men, but it can often place the woman in a very vulnerable position. It can leave them vulnerable to losing their job, their "sexiness", their independence, etc. and that can be very threatening. So, rather than lose all that, many lose interest in sex.

· Social Stigmas:

o While we are bombarded by mass sex appeal in all forms of media, society still dictates that there is something wrong with sexually charged and confident women. While no one is promoting promiscuity per se, we are also let to believe that sex is or should be taboo and letting go of our inhibitions somehow demeans us, whereas control over our sexual emotions means a proper lady and power.

o Age is another factor. Regardless of what goes on in the movies and along Hollywood boulevard, the fashions and most media is directed to women in their teens to their late twenties, preferably single, independent and on "the prowl". Anyone outside of the stereotype including women over 30 and 40 as well as young marrieds and moms just don't fit the mould and are somehow expected to become more delicate, dainty and demure.

· Relationship Woes:

o While for men sex is mainly physical, for women it is mostly emotional. So, if the couple is not connecting emotionally there will be trouble in paradise.

o Women say experts need the same attentiveness they had before they got serious and married. And, that means time away from the home, wash, kids, etc. And, they need time to themselves and to make themselves feel special and beautiful and they need their man to make them feel that way too before they can even begin to think of sex. Why do you think men joke about having better sex before the "I dos", primarily because their mate has less "to" do.

o Also, if a woman doesn't feel loved, appreciated and that she's at the top of a man's priority list, she quickly loses her desire for intimacy with she doesn't feel a close connection to. For women it's like "giving it up" to a stranger, something most women don't look forward to.



· Hormonal Imbalances:

o Women can experience hormone imbalances for a variety of reasons. From the stress of planning a wedding, to being married, living together, moving, setting up house, starting a family, it can all take its toll. Then there's always pregnancy and breast-feeding, which can result in elevated prolactin levels and with age and perimenopause, her desire may also naturally decrease.

o Physical conditions such as vaginal dryness, often a result of lower estrogen levels can cause sex to be more painful than pleasurable and ultimately take a toll on libido. Testosterone levels can also impact sex drive in women and for ladies that hormone generally peaks in their mid-20s and steadily declines from there until menopause.

· Health and Fitness Issues:

o Mental health conditions such as depression and prescribed SSRI anti-depressants can also inhibit desire. And, some blood pressure meds also have a libido reducing effect, as do certain conditions including endometriosis, fibroids, and thyroid disorder in women.

· Significant Life Changes:

o Women tend to be more emotional than logical, even the most logical of the lot. So any major change in one's life including marriage and motherhood, especially in the late teens through early 20s before a woman has had time to fully develop and define herself can take a significant toll on her sex drive. Other factors include physical stress and tiredness, making major life moves, or even entering the empty next syndrome can all have a serious effect.


· Bringing Sexy Back: Experts remind women and couples alike, that while long periods of abstinence may certainly signal a "problem", frequency is not necessarily the measure of a healthy sex drive either. In fact, they say that it's preferable to measure sex drive by how much you look forward to it and how much you enjoy it.

1. Practice pampering yourself: According to experts, one of the reasons many women lose interest in intimacy is because they've "let go of themselves" and don't feel very "attractive" or "sensual". Instead of "just" taking care of the kids, the house, and the hubby, make some time to take care of you, and according the experts, the rest will follow.

2. Stop and smell the roses: Experts suggest finding pleasure in the little things in life. They recommend reveling in the notion of a simple bath, or putting the kids down to sleep and taking in a good book or a good movie with your mate. Step it up a notch by hiring a sitter and having a date night with your man or simply take a few extra minutes to get primped and ready for a day at the mall or night out on the town.

3. Have non-physical fun first: Reconnect with your mate by engaging in non-sexual activities first. Start by having breakfast together, even if only on the weekends and talking or holding hands while watching a movie on Friday night. Once you start closing the "gap" that has developed between you, intimacy will also eventually come more easily.

4. A change of pace: For women routine may translate into "rut" and often time their passion is fueled by "excitement" and "adventure". So, "boredom" becomes the enemy. And, her frustration with her life is likely to suffer first and foremost in her sexual desires. With that said, experts suggest spicing up your weekly routine, renting out a hotel room, inviting company over for dinner, taking her out someplace nice or special or even changing rooms. It's all about breaking the mandatory.

5. Get to know yourself better: From analyzing your current situation and status to defining or re-defining what you want, like, and need physically and sexually, its all an important part of the reconnecting process. Consider that your partner may not be pleasing your because he's clueless about what you're looking for. And, maybe YOU don't even know. So, take some time for yourself and then make some time for both of you.

6. Invest in some extras: Experts suggest that pain and or routine may be putting a kibosh on your bedroom activities. With that said, they suggest looking into all the help you can get. Consider lubricants for dryness, or toys for spicing up a "dry spell". A note of caution: opt for creams rather than oral estrogens to deal with dryness since some oral estrogen have some cancer risks associated with them and always talk to your doctor before trying it.

7. Learn to love yourself: If you're feeling insecure about your figure, take some action to improve. In the meantime, realize that no one is perfect and shift your focus on your positive attributes. Keep in mind that YOU are probably harsher at judging yourself than your mate is and that your partner finds you more attractive than you think. So, think positive, relax, and enjoy the moment.

8. Take your time: While many couples, especially after a "dry spell" may be eager to "get to the point"; experts suggest taking the "scenic route" to where you are going. Enjoy not only each other's company but each other's body, totally by focusing on each part specifically and individually. Not only will this be a turn on, but it will also prolong the pleasure for both.

9. Reality Check: Forget about what you see depicted on "Sex In The City" and other sexually charged shows and keep your expectations realistic. Men should note that typically it takes ladies three times longer to get to where you're going or are already at. So, keep it in perspective. And, women, you need to shift your focus and your attention away from other obligations to focus on the activity at hand and to be able to release your desires and let go of your self-imposed inhibitions.







Long Island Development Articles > Va Va Voom: Awakening Your Inner Vixen
Long Island Bridal Shows