On The Conservative Side: Appliances That Can Save You Energy and Money
Save to notebook

Email article
Print article
More articles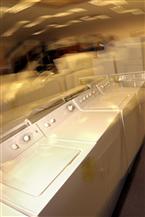 By Mia Bolaris-Forget
We've all heard the expression "Caveat Emptor" (Let The Buyer Beware) and have often been cautioned and advised to do so. And, in addition to making sure we get the most for our money, shopping smart can help us save money in the long run, conserve energy and preserve the environment.

In fact, experts assert that choosing the right appliances can help reduce energy costs by about $600 per year and lower annual carbon dioxide output (a major pollutant) by approximately 30 %.

And, while back in 1992 the EPA (Environmental Protection Agency) developed the Energy Star rating, professionals point out that, that rating system can be somewhat misleading.

Appliances are considered to be energy-efficient by beating the government's energy consumption targets. However, a major discrepancy exists since each appliance design has its own yardstick. In fact, a refrigerator with a freezer on the side (in a side by side model) can bear the Energy Star sticker if it's simply more efficient than other side-by-side units, but refrigerators with the freezer on top (generally more efficient than most side-by-side units) can only earn the certification if they outperform other top mounts.

With that said, the Energy Star label helps consumers determine to some degree the more energy efficient appliances for their home. Plus, experts suggest also using the Federal Trade Commission's Energy Guide, the bright yellow tag on a variety of appliances to get an estimate of annual energy consumption. And, for the most efficiency and savings tae the following into account.

Washers: According t statistics, newer models can cut utility costs by about $110 annually compared to washers produces in 1994

Experts also advise going with a fashionable front loader. Due to it tumbling clothes and out of a shallow pool of water, front loaders consume up to 66% less water and about 50% less energy than most top-loading models which fully immerse your laundry. And, these machines generally work best with low-foaming, high-efficiency detergents.

Remember to check the machine's modified Energy Factor, which is a measure of the energy used during the washing process and the moisture left in the clothes after the spin cycle (the greater the MEF number, the less work your dryer will have to do). And, according to experts the number you should be looking for is 1.72 and above.

Consider washing your "unmentionables" and dirtiest clothes in cold or warm water and always choose a cold rinse. They pint out this will help save you about $63 annually. And, contrary to popular belief, cool water will get rid of traditional soil stains just as effectively as hot water and washing with bleach in cooler temperatures helps prevent dinginess.

Dryers: While these common household appliances are not "rated" you can still save energy by about 10% by switching to a machine with temperature or moisture-sensing controls.

And, when it comes to your options, experts suggest you opt for gas models over electric ones. Yes, the purchase price is usually about $50 higher in gas dryers, in the long run it will save you a significant amount of money overall, cutting your drying bill by about 25% or more.

Finally scan marketing materials for a moisture sensor inside the drum rather the exhaust vent. The drum sensor checks how wet the clothes are rather than how damp the air is, often resulting in about a 15% savings in operating costs.

Fridges and Freezers: According to experts this major appliance accounts for one sixth of the average energy consumption, more than any other household appliance.

Professionals point out that good things literally "do" come in small packages, with the smaller fridge-freezer combination the less energy it will use. They note, that "traditional" families of four can best be suited by and 18 to 21 cubic-foot unit.

Experts also suggest choosing models with freezers at the bottom, which tend to be the best design of energy conservation, followed closely by those with freezers at the top (and not by side-by-side) models, which generally consume 10 to 15 % more energy.

Also, it's best to keep your fridge full at all times, especially since it takes an abundance of energy to cool and empty space. In fact, freezers run more efficiently when full. Still, you don't want to overstuff your fridge. Remember, when food is touching the top and side of your refrigerator, air is unable to circulate, and these appliances work best when chilled air is adequately circulated.

Finally, if you are selecting a stand-alone freezer, you're best off with one that is a chest-type than an upright. Remember, cold air sinks, making horizontal models more efficient as they retain more of the cold air when opened.

Dishwashers: According to the EPA, you can conserve at least 25% of your yearly costs by simply replacing an older model (1994 and prior) with a more modern and energy efficient model.

Take into consideration the EF or efficiency number. The higher the number, the more energy the appliance conserves. Look for 0.65 or better, and like washing machine's MEF, this number is not found on the label but rather by logging onto www.energystar.gov.

Experts also suggest investing in a dishwasher featuring several different cycle selections including rinse and hold, light, normal, and heavy. And, know which cycle to use can help reduce the machine's work time and water and energy use. Set your dishwasher to rinse and hold when you want to wait to run the machine, such as waiting for a full load. For lightly soiled dishware select light wash (energy-saving) cycle and go heavy only for serious scrubbing such as for pots and pans.

Also while all models feature a heating element that can speed\dry dishes and draw a lot of electricity, experts suggest opting for models that offer the option of dish drying without heat. Set to cool dry or air dry and to conserve even more energy look for models that allow you to bypass the dry cycle simply by pressing a button.

When loading, place the dirtiest side of the dishes toward the middle of the machine and place large items (that may block the sprayers) along the sides and back so that you won't need to run the machine twice. And, make sure to refrain from rinsing dishes prior to loading (in new models) by simply scraping off the food and placing in the dishwasher.

By the way, many states and local utility companies offer tax incentives or rebates for choosing energy-efficient appliances.

Long Island Technology Articles > On The Conservative Side: Appliances That Can Save You Energy and Money
Long Island Bridal Shows